electro-harmonix Q-TRON envelope filter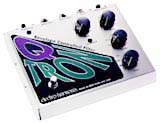 Analog Man Vintage guitar effects
Mike Matthews, founder of Electro-Harmonix, and Mike Biegel, designer of the Mutron III, have together created the first all-new Electro-Harmonix product in 15 years: The Q-Tron envelope controlled filter. This new effect uses the same opto-electronic design of the Mutron-III and has an increased frequency response and an improved signal-to-noise ratio. Has all Mutron-III features plus switchable Boost and Filter Mix mode.
There are seven onboard controls :
Drive Switch (up/down) - selects direction of filter sweep : up (wah) or down (ow).
Range Switch (Hi/Low) - Emphasizes vowel like sounds in low position, overtones in high position.
Gain Control (0-11) - Functions as both a volume control and a filter sensitivity control in boost mode. In normal mode it acts only as a filter sensitivity control, unlike the Mutron-III which also changes the unit's output volume.
Boost Switch (Normal/Boost modes) - Normal mode allows setting the Gain control without changing the output volume.
Peak Control (0-11) - Determines frequency peak of filter. Makes more "effected sound" when turned up more.
Mode switch (LP, BP, HP, MIX) - Select the frequency range for the filter to sweep. Low Pass is lows, Band Pass is midrange, High Pass is treble. MIX mode (new feature not on the Mutron-III) combines BP with dry unprocessed sound.
Bypass switch (in/out) - Turns effect on and off.
Features
Includes 24 volt AC adaptor (will not run on batteries).
Comes in strong multi-ply wooden box
POWER indicator LED
2 outputs - normal and effected outputs.
True bypass DPDT switching.
Here is more info on the Q-tron with sound samples on the Electro-Harmonix site.

Here's a great article by Mike Biegel (Q-Tron designer) and Elliot Randall, about envelope filters, from 1980.